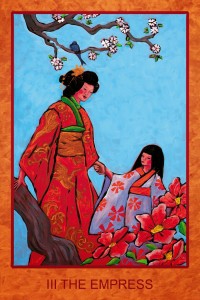 A Tarot Journey with The Empress card:
Healing the Mother Within
Saturday, June 4, 2016
Time: 11:00am – 5:00pm
Location:
A private home in North Seattle, Broadview neighborhood. Address will be provided upon registration.
Cost:
$110 by Monday, May 30, $125 after May 30, 2016
To register email:
jennifer@jenniferluceroearle.com
Tarot decks will be provided for use during the workshop. There will be a one-hour break for lunch.
About:
In the tarot, the Empress card represents the archetype of the mother. The mother is the source of feminine strength, unconditional love, nurturance, nourishment, and creativity.
When we explore this archetype, we access the ability to heal and become the vital source of our own self-care and nourishment of mind, body, heart and spirit.
Together, we will use tarot as a guide to heal old stories, 
dance the mother within, and 
claim our selves as the ultimate 
source of nourishment.
Come honor and celebrate the divine mother within you.
What to expect:
Explore the mother within, through guided movement.
Learn about healing the mother within, from the tarot.
Experience ArcanaDance.
Feel the safety and support of community.
No tarot or dance experience required. Movement will be guided. All are welcome.
ArcanaDance:
ArcanaDance experiences are powerful and healing. They allow participants to deepen their understanding of their emotional and physical responses to life experiences. While each person's experience may vary, participants regularly report a greater depth of clarity and readiness to make changes, large and small, in their lives. ArcanaDance provides you with the cognitive and somatic understanding needed to take action and create the life you desire.
Register: